World War II Submarine Combat Veteran Retires From Active Duty
by CDR Greg Hilscher, USN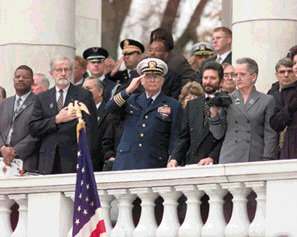 Few of us may have known that until recently, a distinguished warrior who

wore the Submarine Combat Patrol insignia earned during World War II was still serving in uniform.
Coast Guard Captain Earl Fox, the last remaining World War II combat veteran on active duty, retired from military service on November 19, 1999 at the age of 80. As a naval officer, Fox served in the Pacific aboard PT boats and submarines from 1942 to 1945.
CAPT Fox graduated from the University of Richmond, then attended the Naval Academy and was commissioned in January 1942. He initially served aboard PT boats, and commanded PT-22 at Midway during the Japanese attack in June 1942. Duty next took him to the South Pacific where he commanded PT-349 and a motor patrol boat squadron in the seas near New Guinea. He also saw action with PT boats in the Aleutian Islands, where he earned the Silver Star Medal for his action in combat.
In 1943 CAPT Fox applied for submarine duty, and after completing submarine school in New London and marrying his college sweetheart Reba, he served on the submarines R-14 and R-20 operating from Key West, Florida.
He next reported to USS Bang (SS-385) in the Pacific theater. CAPT Fox served as Engineering Officer and acting Executive Officer on Bang and conducted war patrols from Brisbane and Pearl Harbor during which Bang sank several Japanese ships and bombarded a Japanese held oil refinery in Indonesia. Bang was awarded the Presidential Unit Citation for her superior performance against the enemy.
CAPT Fox left active duty in 1947, but remained in the Naval Reserve and commanded destroyers during summer cruises. He completed medical school and worked as a general practitioner in St. Petersburg, Florida until retiring from private practice in 1974.
After assisting the Coast Guard in an urgent medical rescue mission, he was urged to join the service, which was then short of medical officers. In 1974 he was granted an age waiver and returned to active duty in the Coast Guard at the age of 55. He served at various duty stations along the east coast and conducted numerous search and rescue missions as a flight surgeon. His final assignment was as senior medical officer at the Coast Guard Personnel Command.
He was honored by President Clinton at the Veteran's Day Ceremony at Arlington Cemetery on November 11, 1999.
At his retirement ceremony on November 19, CAPT Fox spoke of how fortunate he was to have survived the battles that claimed so many of his close friends. He also commended the superb people he served with, both on submarines and during his Coast Guard career. He and Reba will return to St. Petersburg, Florida to enjoy their well-earned retirement.