S u b m a r i n e s i n t h e M o v i e s
Comments below are mostly collected from the BBS on this site and via email. If you have more information on any of the movies/series below - or any others - please email me.
20,000 Leagues Under the Sea - Walt Disney film
In 1954, REDFISH Participated in the Walt Disney Studios Production of 20,000 Leagues Under The Sea, fitted with a "dummy" rear fin that allowed her to double for the surface-running version of Nemo's NAUTILUS in one of the most dramatic sequences in the film. - Pat Householder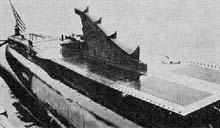 Redfish fitted with "Nautilus fin"
Abyss, The
The movie begins with a submarine crashing and everyone on board dying. Before they crash, they send up a beacon. The Navy finds it and uses an oil rig's crew, already underwater, to find it.
Around the World Under the Sea
No information.
Assault on a Queen (1966)
A group of adventurers refloat a WWII German submarine and prepare to use it to pull a very large heist; The Queen Mary. Stars Frank Sinatra, Verna Lisi.
Battle of the Coral Sea, The
The movie The Battle of the Coral Sea was made in 58-59 some time. Cliff Robertson was the skipper in the movie. It was filmed on the USS Aspro SS- 309. - Marion (Ernie) Crowl
Behind the Door (silent movie)

"A German-American naval officer takes revenge against the German submarine commander who brutalized his wife."

"This photo taken on August 9, 1919 shows a mixed group of H-8 crew and movie actors including Wallace Beery, (right center, second row), Jane Novak and Hobart Bosworth, (left center, second row), with USS H-8 in the background disguised as the German U-98. The real Captain of the boat, Lt Cooke is in his normal uniform (center front) as is CRM Harold Lintner, kneeling, 1st man, bottom row at left side of photo. A number of the crew are dressed as German sailors and worked as extras in the movie. This silent movie was called "Behind the Door".



(click photo to view slightly larger size)

Photo credit: Photo provided by Stan Lintner, his father, Harold Lintner, served aboard the H-8 as a Chief Radioman. (and thanks to Ric Hedman for sending a copy to me -DG.) Be sure to visit Ric's website: Through the Looking Glass
The Colonel and I
The USS Remora was used in the The Colonel and I. Danny Kaye was the Star. About 1956. - Marion (Ernie) Crowl
Crash Dive
I always thought that the boat(s) used were the Marlin or Mackerel - SS 204 & 205 which were apparently both assigned to the school at New London at the time the movie was made - probably 1942 .

Both boats were there when I first arrived at the base in December '43 and were still there when we shipped out in July '44. I don't recall whether they were still around when I got back to the base in January '45.

They had some of the lines of the fleet boats but were only ca. 400-500 tons and not designed for patrol duty in the Pacific. They were probably used to train officers while we got our earliest training on the O-Boats.

There were also two early fleet boats (the Cachalot and another ) but their conning towers didn't match the movie boat. - Jim Keegan

Just happened to watch "Crash Dive" the other day and noticed that the after battery hatch was elevated above deck level and in a kind of "step" at the rear of the conning tower. Check the photo at - http://www.subnet.com/fleet/ss205.htm To me it looks like a match. - Jim Keegan
(20th Century Fox, 1943) A U.S. submarine fights the Germans in the Atlantic, while its commander (Dana Andrews) and a lieutenant (Tyrone Power) romance the same woman (Anne Baxter). Won an Academy Award for special effects. - US Navy website info
I believe the sub in this movie was either the Marlin or Mackerel. It was the one which LCdr (or Cdr) Paul Grouleff was the C.O. I heard him say one day in the summer of 1943 that he told one of the people making the movie who wanted a large list on the boat for one scene that "If you can get permission from the Navy I will sink the son-of-a-bitch for you". - Warren "Moose" Grossetta
Crimson Tide (1995) with Gene Hackman, Denzel Washington
The departure scene was filmed on the hulk of EX-USS Barbel SS-580 in San Pedro CA. Barbel's sail and superstructure and induction piping had been cut off during scrapping. The film studio constructed a superstructure and sail out of plywood and other materials for the departure scene. Barbel was later reclaimed by USN and sunk as target in 2002. - TMC(SS) Patrick Meagher USN RET. Crewmember USS Barbel SS-580 1970-1975.
Das Boot
1981. Starring Jurgen Prochnow and Herbert Gronemeyer. It is 1942 and the German submarine fleet is heavily engaged in the so called "Battle of the Atlantic" to harass and destroy English shipping. With better escorts of the Destroyer Class, however, German U-Boats have begun to take heavy losses. "Das Boot" is the story of one such U-Boat crew, with the film examining how these submariners maintained their professionalism as soldiers, attempted to accomplish impossible missions, while all the time attempting to understand and obey the ideology of the government under which they served. One of the best submarine movies made and realistic. - Mike Brood
Destination Tokyo
(Warner Bros., 1944) Cary Grant stars in this classic wartime adventure about a U.S. submarine on a secret mission to enter Tokyo bay and gather information for the Doolittle air raid against Japan. - US Navy Website
Down Periscope - (1996) starring Kelsey Grammer
Shot on Pampanito. - Mike Eacho
(The) Enemy Below - Robert Mitchum, Kurt Jergen
Gray Lady Down - with Charlton Heston
Director: David Greene
Cast: Charlton Heston, David Carradine, Stacy Keach, Ned Beatty
Commercial Summary: The tense story of the nuclear submarine Neptune which is rammed by a Norwegian freighter, plummeting 1400 feet before coming to rest on a crumbling sea-shelf. Using his untested two-man sub, a diving expert embarks upon a daring rescue attempt.
The submarine shown in the opening credits is USS Trout (SS566). We had just come back from the boat's last WestPac and had a new skipper. He was shortly taking the boat around from San Diego to New London to start transferring her to the Iranians, but was tagged with going out for one day off SDGO to be photo subject for the movie's opening frames. We made several dives and surfacing alongside a hovering helo with the cameraman hanging out the side door. I was the OOD for all of this. -- John Byron
Prior to making the movie "Gray Lady Down" the USS Gurnard (SSN 662) had the privilege of taking Charlton Heston and some of the producers and other staff to sea with us for a day. While under way we conducted several drills so they could see the action of a real submarine during a casualty. I was onboard during this trip and had the pleasure of meeting Mr. Heston and getting his autograph.
-- Andy McKay, TMCS (SS) Ret.
Hell Below
Fifth Missile, The With David Soul and Robert Conrad
The Fifth Missile used the fictional boat Montana but was a 640 class boomer and a few shots were of fast boats. Hope this helps. - Randall E. White
(Columbia, 1950) Glenn Ford stars as a naval commander who develops the means to launch missiles from submarines. - US Navy Website
Frogmen, The
The movie, "The Frogmen" featuring Richard Widmark, Dana Andrews and Gary Merrill, had the submarine scenes shot aboard the Sea Poacher SS406 in Key West. The film used UDT TEAM 4 out of Norfork and several members of the crew were extras.

I was chosen to appear in a scene showing members of the submarine crew taking an inflatable raft out of a port side line locker just aft of the after deck gun. Widmark and his frogmen were to launch the raft and procede to a mission.

I have just recently made arrangements to acquire a copy of a vhs tape of this movie from a man in Ontario, Canada. It is a pretty rare tape. I had to buy it as my kids never have believed that I was in a movie. The movie was made by 20th Century Fox and they gave a party for the ships crew at a watering hole in Key West upon completion. A scene showing Dana Andrews at the rail of the tender (don't recall the name) had to be delayed a couple of times due to late hours and overindulgence by Mr. Andrews.

The guys from UDT 4 were true to their profession. On the way in from sea they would go over the side and swim the last several miles.

Bill McKinney
Hell and High Water
Starred Richard Widmark as the skipper of a sub manned by former submariners and hired by a group of scientists looking to prevent a plot to start WWIII by framing the US. Great action flick. Starred Bella Darvi as the love interest.
-- Harry Shirus
Hell Below
(MGM, 1933) Love triangle in World War I. - US Navy site info
Hellcats of the Navy with Ron Reagan


Hunt for Red October, The
Used the USS Houston (SSN 713) as the USS Dallas (SSN 700). Other than that little bit of information, I don't know of any others you haven't said. - Michael Cole
April 1990 Motion Picture "The Hunt for the Red October" filmed using the Permit. - Dave Stoops web site
In March of 1989 while filming "Hunt for Red October" the USS Permit SSN 594 was featured in drydock. The scene shows a bow on shot of the sub, lots of superfluous welding and a mock DSRV on a crane. - Peter Morrison

The Russian Alpha was actually shot in the torpedo room of the USS Blueback in San Diego. We carried HFRO (Hunt for Red October) Ops on the tenders night work sheet for well over 2 months during the filming - participating in the dry dock scenes, making sparks - used all of the freezer grate there was in SD to replace all the deck plates on Blueback and mounting rails in the bilge for the camera carts to move on and shoot up through the grating - what a time. - Joe Aligood
Ice Station Zebra
Used the Ronquil for the shots on deck doing the Jim Brown arrival by helicopter. Also did some underway and diving shots. I was aboard and helped run cables through the pressure hull to operate the cameras when we dove. This was filmed along side the pier at Ballast Point, San Diego. - Tim Spoon

USS Blackfin SS 322 was used for some surface shots in Ice Station Zebra. The filming was done off Pearl. Blackfin used to tie up just inf ront of us at Sierra 11 or 12 and was the talk of the whole dock during that time. - Ric Hedman
The following photos are courtesy of Richard 'King Bing' Bingman (a sonarman on Ronquil at the time) via Tim Spoon (click on them to view full size):
Tim's comments when sending the photos: Here are four shots of the making of Ice Station Zebra aboard the Ronquil in 1967. These represent the lowering of Jim Brown to the deck from a helicopter at sea during the first part of the movie. These are probably stunt doubles. --Tim Spoon DBF
In 1967 they spent a month with us - spraying foam for Ice shotes for a week - Ernest Borgnine would come on board a 5:00 and help cook breakfast - crack jokes - and have fun as a bubblehead before getting to work filming. I have the sign in sheet with about 20 names of those that filmed on board which I plan to take to Sterlet reunion - they wouldn't let us take pictures of filming or when on board - but Sterlet was a big part in its filming.

-- Dick Jarenski YN1, Sterlet 66-68


Men Without Women
(Fox, 1930) John Ford film about a crew that awaits rescue about sunken submarine S-13. This early "talkie" uses both spoken dialogue and silent-film intertitles - sometimes in the same scene! - US Navy site info
Morgenrot
(German, 1933) Suspenseful story about a crew trapped in a sunken U-boat during World War I.
Move Over Darling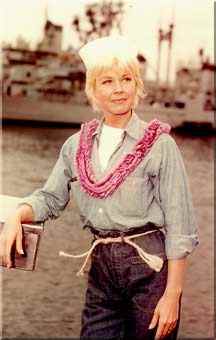 Doris Day is rescued by the USS Blackfin . James Garner, Polly Bergen and Chuck Conners also starred. -- thanks to Jim Lundell for this info.
Murphy's War
TILEFISH / CARITE (SS-307)

She was sold to the Venezuelan government to be known as ARV Carite.
TILEFISH was struck from the U.S. Navy List on 1 December, 1960 after 17 years service to her country.

Carite served in the Venezuelan Navy into the 1970's. While in that service, during the filming of the movie "Murphy's War" in 1969 and 1970, the submarine played the part of a German U-boat hiding in the Amazon River. For the role she was modified by the addition of a "cigarette deck" aft of her sail and was painted in a "dazzle" camouflage pattern. Carite was decommissioned by the Venezuelan Navy on 28 January 1977, and cannibalized for spare parts.

- SubNet (www.subnet.com)
Nobody's Perfect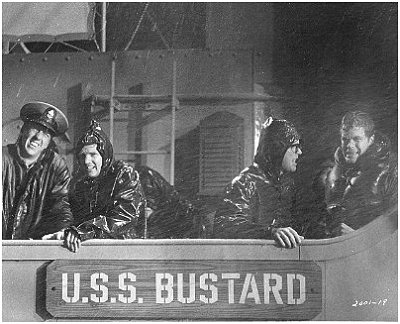 In 1967 I was waiting to go Nuc School and then to the boats (Spent 4 years on the 590). I was assigned temp duty to the ASR 9 - the USS Florikan. I found the ship at the foot of Broadway in San Diego. Only problem was the banner on the brow said USS "Bustard" or Buster ASR 9. Finally the watch saw my confusion and yelled it was the Florikan and they were filming a TV movie starring Doug McClure. Don't remember the movies name, but I spent my first day "at sea" with lights, camera and action. -- Art Brice, MMI(SS)
Noon Sunday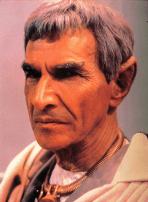 Back in 1970 while in West Pac, we pulled into Guam. Whether we were ordered there or it happened just on a chance I dont know as I was just the cook and wasn't in the right loop to know. Anyway, they were shooting a movie there and we were made part of it. Razorback was used for the early scenes.

It was one of those super hero James Bond type movies. It was or is about a special agent sent in by a Submarine to help the local folks defeat the bad guys.

Well they told us all about the plot and about when it would be released. I cant remember the actor who was the "hero" - all I can tell you he was the actor who played Spock's father on the old Star Trek series [Mark Lenard, see photo top right, Ed.].

Well most of the crew has probably forgotten all about this as I never saw the picture released.

About three years ago I was at a local video stop looking for something to watch on a cold rainy day and lo and behold what do I find; Noon Sunday, the one and only, so I rented it and the rest is history.

I'm not going to say it was a bad movie BUT, I dont think it was released it had to have escaped. But it was good to see the old Razorback again. She can still hold her head up high and say seh was a movie boat - for whatever it was worth.

Robert W Baker MS1(SS) USN Ret.
The Private Navy of Sgt. O'Farrell
Filmed with Bob Hope in San Juan, PR in 66 or 67, USS Chopper (SS 342) was made up to look (sort of) like a Japanese Sub. - Pat Householder
The movie was released in 1968. While researching a couple of other projects I dropped in on a movie data base in an attempt to confirm the filming dates in Puerto Rico, without success. Contacted a couple of ex Chopper sailors and received, "I don't know for sure but I think it was sometime in 1967". Pat Householder's info, 66/67 could be more accurate than the spring of 1968. I reported aboard Chopper 3/1967, and left 7/1968. I was aboard during the filming in San Juan. 1967 seems to popular if not accurate. After 33 years who's going to argue. - Jim Keith
On the Beach
The Submarine VOLADOR SS-490 was used in the movie "On the beach" with Frank Sinatra and other famed actors. This was in 1959, at that time I was the leading QM aboard. - Fred D. Wagner LCDR USN (ret)
Operation Disaster
Morning Departure (British, 1950; released in the United States as Operation Disaster) Richard Attenborough stars in this World War II adventure about a British crew waiting to be rescued from a sunken submarine.
Operation Pacific
(Warner Bros., 1951) Under John Wayne's leadership, the submarine Thunderfish fights the Japanese and rescues nuns and children. This film, the first of a spate of World War II submarine movies released during the 1950s, was loosely based on the true stories of the USS Angler (SS-240) and Growler (SS-215). Admiral Charles Lockwood, the commander of submarine operations in the Pacific, served as technical advisor.
1951. Starring John Wayne, Patricia Neal and Ward Bond The "Growler," under the command of Cdr. Gilmore, was on patrol in early 1942 when she came under attack by a Japanese gunboat. Gilmore was mortally wounded and as he lay on the bridge of the sub gave the command to "Take 'er down!" just as "Pop" did in "Operation Pacific" and thus saved the crew further casualties. He was awarded the Congressional Medal of Honor posthumously for his action. Also the "Growler" rammed the gunboat and bent the bow of the sub just as depicted in "Operation Pacific." - Mike Brood
Operation Pacific (Warner Bros., 1951) Under John Wayne's leadership, the submarine Thunderfish fights the Japanese and rescues nuns and children. This film, the first of a spate of World War II submarine movies released during the 1950s, was loosely based on the true stories of the USS Angler (SS-240) and Growler (SS-215). Admiral Charles Lockwood, the commander of submarine operations in the Pacific, served as technical advisor. - US Navy Website
Operation Petticoat
Used the Balao to be painted pink. Filmed in Key West 1959-1960. I was chipping pink paint from around the screw guards in 1962. - Tim Spoon
Balao AGSS-285 - Steamboat
Final scenes, SS393. I don't know the name of the boat that was painted pink. - Jon Krup
There were two boats used in Key West... Archerfish was the one used for all the underwater shots... "stuff" fired from tubes, etc. That is Archerfish tied up inboard of Balao in the picture [below]. - Ken "Pig" Henry
It was Queenfish: Remember on the fleet boats there were flat metal numbers (and sometimes the boat's name as well), welded to the side of the superstructure, and usually always painted over (sometimes also painted white for contrast)....you can see the 393 in some scenes. - Gary "Cowboy" Mclaughlin
In further reading on 311 and 393 history, I think previous web site (Gary Walker's) and picture title may be wrong. 311 went back in service 1958*, assigned Key West, movie released in 1959. But 393 assigned to San Diego for same time period. Interesting. Shows research into history is as always .... verify verify verify - Don "donmac" Smith

* correct year is 1957 - Ken "Pig" Henry
As a Balao qualified guy I have been following the saga of movie "Operation Petticoat" since I first reported aboard and watched the movie the same night.

I am starting to believe that the Balao was painted pink, the Archerfish was used for shots in and around Key West as in original black/gray paint. The Queenfish was used for shots at the end of the movie, in black/gray paint, when the Sea Tiger is put OOC.

At least with all the stories and the scenery in different parts of the movie this makes sense. - Tim Spoon
There is nothing to ask... The Deck Logs say it was Archerfish... it was Archerfish. I don't understand why we cannot agree that:
1 - Balao was painted pink and used as the star of the movie.
2 - Archerfish remained gray and was used for all submerged shots and underway shots of a "gray" submarine during the filming IN KEY WEST.
3 - Queenfish was used for the filming of the WEST COAST scenes in beginning and end of movie.

If someone out there is still determined to say that the gray boat inboard of the pink Balao in Key West on Gary's page is Queenfish, please provide us with some documentation that Queenfish came to Key West from the west coast to make this movie. - Ken "Pig" Henry
Tim Spoon is correct on all accounts. I was in Key West attending sonar operators school in January 1959. My class was pulled out of school for a couple of days to handle lines, etc. on shore, for a couple of scenes being shot: the sub was the Archerfish (grey paint). Sailors used for the same kind of scenes for Balao (pink paint) were from the Sub Base Key West. - Fr. Aaron S. Peters, O.S.B.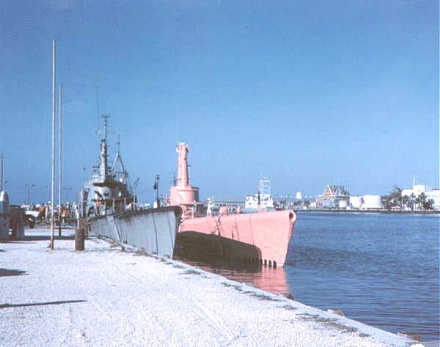 Photo taken in Key West
---
Here are a couple of the Deck Log entries from Archerfish (SS-311) when we were assisting with the making of Operation Petticoat - Ken "Pig" Henry:
February 18, 1959 - 0825- Moored starboard side to berths 5 and 6, North Quay Wall, US Naval Station, Key West, Florida. 1710- USS Balao (SS-285) moored alongside to port.
Joseph J. Kronzer, LTJG, USN
* * * *
[This is when Balao was painted pink for 'Operation Petticoat'. There is a photo of Archerfish and Balao floating around the BB's. I think Gary Walker has a copy on his Atule site. Nobody knows who took the photo, but these log entries confirm that the "other boat" is Archerfish.]
* * * *
February 20 - 0715- Mustered the crew at quarters. 0745- Balao underway from alongside. 0803- Underway. 0950- Set speed 10 knots, commenced Operation MoPix with YTB-543. [This was for filming our scenes for 'Operation Petticoat'] 0951- Submerged. 1009- Surfaced. Stopped, lying to. 1139- Set speed 10 knots. 1146- Submerged.1209- Surfaced. Set speed 16 knots. 1248- Stopped, lying to. 1425- Set speed 16 knots, station the maneuvering watch. 1551- Moored starboard side to port side of USS Balao at berths 5 and 6, Center Mole, US Naval Station, Key West, Florida.
Albert W. Houston, LT, USN
* * * *
February 21-23, 1959 - Moored starboard side to berths 5 and 6, North Quay Wall, US Naval Station, Key West, Florida. USS Balao (SS-285) moored alongside to port.
* * * *
February 27, 1959 - 1015- Commenced steering various courses at various speeds while shooting various scenes for the movie 'Operiation Petticoat'. In company with YTB- 543. 1408- Completed scheduled operations with YTB-543. 1529- Moored starboard side to the port side of the USS Chopper (SS-342) at north side of Pier #2, US Naval Station, Key West, Florida.
Steve L. Ramos, LT, USN


USS Balao Key West Photos from Tim Spoon
(click photos for larger view)
These pictures were taken during the filming of "Operation Petticoat" aboard the USS Balao in Key west.

Parrish
While aboard the Jallao(ss-368) around the summer of '59 we had Troy Donahue and Carol Bain aboard to fill some scenes for the movie "Parrish." Basically, they filmed a birthday cake scene in the forward room to represent his time in the Navy. The movie was about a Connecticut tobacco farmer. -- Harry Shuris
Run Silent, Run Deep


Photo: Warren Shaw via Myron Howard
In the opening minutes of RSRD when the NERKA is shown coming in, the boat is USS BREAM SS243. I learned this from Warren Shaw who was in the shears on lookout that day. BREAM was enroute to San Francisco for overhaul in May, 1945 after completing 6 war patrols. In the image, the photo on the left is a screenshot of RSRD and on the right is a scan of one of the stills that were taken that am - Myron Howard
In September of 1957 REDFISH, with deck and armament modifications, went again before the cameras as the "USS NERKA" in the MGM Production of another submarine classic, Run Silent, Run Deep. - Pat Householder
I was on Redfish when Run Silent, Run Deep was filmed starring Burt Lancaster and Clark Gable in 1957, in fact several of the crew had short no speaking parts. I was used as one of the people who buried Gable at sea and was on screen for about 1 second. For our services we received $10.00, a ships party and got to attend the premier in San Diego. Just FYI. - Bob Brown STC(SS) USNRET
Submarine - A Mighty Drama of the Sea
Directed by Frank Capra, 1928, (Silent)

"This early movie from the acclaimed director Frank Capra tells the story of two navy friends who fall in love with the same girl. The break up of their friendship over this girl is only saved by a sinking submarine. When the diver of the two saves the other from dying on the submarine they finish their argument and ditch the girl." - (from www.imdb.com)
Submarine Command with Bill Holden, William Bendix
(Paramount, 1951) William Holden is a Korean War submarine commander who is haunted by his memory of the last day of World War II, when, as an exec, he saved his boat by crash diving while the captain was on the bridge.
Shot on Sterlet and one other boat whose name I can't recollect. - Gary McLaughlin.

I have done considerable research on "Submarine Command," since one of it's primary stars was the USS Sterlet (SS-392), the boat that my brother served on during WWII.

I don't want to dispute Cowboy, but I have found no information saying that another boat besides the Sterlet was used. One of the initial scenes shows a number of WWII subs in mothballs, and I think probably the interior shots were "sets," but don't know that for sure.

Info on the movie: "In December of 1950, she shifted to Long Beach where she bacame one of the stars in the mtion picture 'Submarine Command'". from History of the USS Sterlet.

"I have been searching for years for the movie that the Sterlet stared in. I recently purchased on e-bay a lobby card (for several hundred dollars), circa 1953, used to advertise the movie "Submarine Command." Gearge Brauch, plankowner and shipmate of my brother. He sent me a copy of this lobby card. If I knew how to post it, I would. Help!

The movie, filmed by Paramount in 1951 also starred William Holden, William Bendix, Nancy Olson and Don Taylor.

I liked it. I could put myself where Elmer once was. - Corabelle

To Gary McLaughlin: The 1951 movie "Submarine Command" was also filmed aboard the Ronquil SS-396 tied alongside the tender Sperry in San Diego.

I was aboard at the time and remember many of the scenes and having coffee in the crews mess with Bill Holden and some of the other guys. William Bendix was very unfriendly.

The Chief of the Boat (Charlie Mathern) had a bit part and from then on he was sure he was destined to be a movie star.

I would like to see the movie some day but have not been able to find it anywhere.

Bill Cheesman RM2(SS), Ronquil, 1951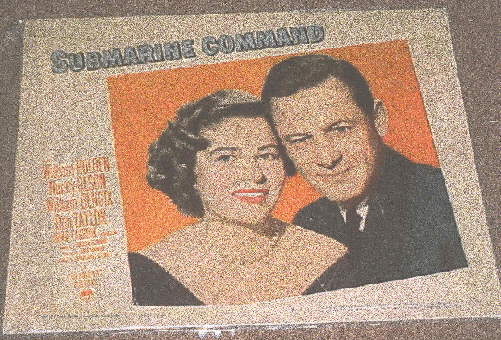 Image courtesy of George Brauch via Corabelle
Submarine Command (Paramount, 1951) William Holden is a Korean War submarine commander who is haunted by his memory of the last day of World War II, when, as an exec, he saved his boat by crash diving while the captain was on the bridge. - US Navy Website

As of January 2005, this movie was available on DVD via CabbageBoyMovies.com

My father, Robert Upchurch, was in the Navy and on this sub, the USS Segundo SS398, when filmed. He is the one firing the torpedoes at the beginning of the movie. He received $50 for his small speaking part. He was a QM1(SS) and served aboard from 1946-1951. After service 28 years in the Navy, he retired as a WO4 in Norfolk. Our family enjoyed the military life, lived in Key West during the Cuban Missle Crisis and spent 3-1/2 years in Yokosuka. Dad passed away on 11/29/03. -- Craig Upchurch

Submarine D-1
(Warner Bros., 1937) Action film showing a submarine rescue using the McCann Rescue Chamber and Momsen Lung. - US Navy website info
Submarine Raider
(Columbia, 1942) Hokey yarn about submarine that fails in its attempts to warn Pearl Harbor of the impending Japanese attack, then sinks one of the carriers that launched it. - US Navy website info
Tora Tora Tora
I believe USS Carbonero SS337 was in a scene of Tora Tora Tora - John Bodrog
Torpedo Alley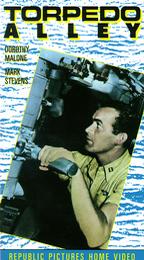 Description: A guilt-ridden ex-Navy pilot applies for a treacherous submarine mission in order to overcome the lingering shame of the failed mission that killed his flight crew.
The movie "Torpedo Alley" was filmed in late 1952(September) on the reserve fleet in New London. I was among those, waiting to start sub school, who were used as "extras" in the movie. We spent half a day filming the same scene over and over. However, I never made it to the silver screen. My "big scene" was cut out of the picture. We didn't receive any money. - Lee Davenport
Torpedo Run
1958. Starring Glenn Ford and Ernest Borgnine. The commander of an American submarine during World War II sets out to destroy the Japanese Aircraft carrier which launched the attack on Pearl Harbor. His wife and child have been captured by the Japanese and they are using them and other prisoners of war as human shields for the carrier. - Mike Brood
Underwater Warrior - 1958, Starring Dan Dailey
About the start of the UDT teams during and after WWII. Shows a boat he supposedly used the escape trunk. SS-327 or SS-329. Don't know the name of the boat. Shown Thursday evening 18 Jul, on Turner Classic Movies.

Dan Dailey

Up Periscope
1959. Starring James Gardner and Edmond O'Brien Lieutenant Braden discovers that Sally, the woman he's been falling in love with, has actually been checking out his qualifications to be a U.S. Navy frogman. He must put his personal life behind him after being assigned to be smuggled into a Japanese-held island via submarine to photograph radio codes.
We Dive at Dawn
1943. Starring John Mills, Louis Bradfield, Roanld Millar The crew of HMS submarine Sea Tiger have their leave (and assorted family problems) cut short when they are recalled for a special mission: sink the new German battleship Brandenburg. En route, they learn that their target has entered the heavily defended Baltic; rather than fail, they follow it. Tension builds as they approach their target. After the attempt, escape seems impossible...unless they can refuel in enemy waters.
(British, 1943) Drama about the crew of a British submarine as it stalks the new German battleship Brandenburg in the Baltic. Stars Jon Mills. - US Navy Website Info
- Other Links
T e l e v i s i o n
Operation Petticoat
The television series used the Roncador to be painted pink. She was the reserve boat at Long Beach and the filming was in the middle 1970s. - Tim Spoon
Silent Service
REDFISH capped her film career by making several appearances in the popular black-and-white television series Silent Service. - Pat Householder
M i s c e l l a n e o u s
(Need help connecting these comments to either a boat or a movie)
In summer of 1959 when I was a Midn on summer training on Sea Devil was told by crew a movie had recently been filmed on board. In fact one of the QM's by name of Andrews was in one of the conning Tower scenes. Later Andrews was a Chief QM on Diodon during time I was there. Can't remember the name of the movie though. - Bill Weinhardt