Submariner Prisoners of World War II
Outside of the submarine community, there's a common misconception that there were no prisoners of war from the submarine service. Most assume that prisoners of war are comprised of Army soldiers and Marines but the truth is that not all submarines lost were lost WITH their crew.
This is an attempt to shed some clarifying light on this issue through the use of first-hand stories and photos from a submariner who was a prisoner of that war - Bob "Sarge" York.
- - -
The following photographs have been graciously provided by Bob "Sarge" York (most are from Mr. York but others are from former shipmates (fellow prisoners) and their familles: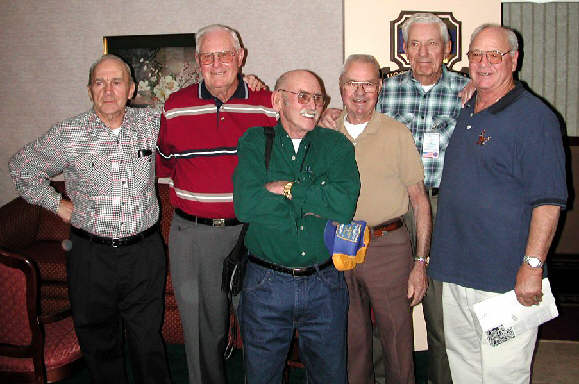 (click here for larger view of this photo)
Left to right: Sarge York, Charles Johnson, Gordon Cox, Riley Keysor, Bernard Witze, Chuck Ver Valin. Sarge York (in the May 2001 message that contained this photo) said, "...we all were in the same camp and as of last Dec. all alive, Sarge."
---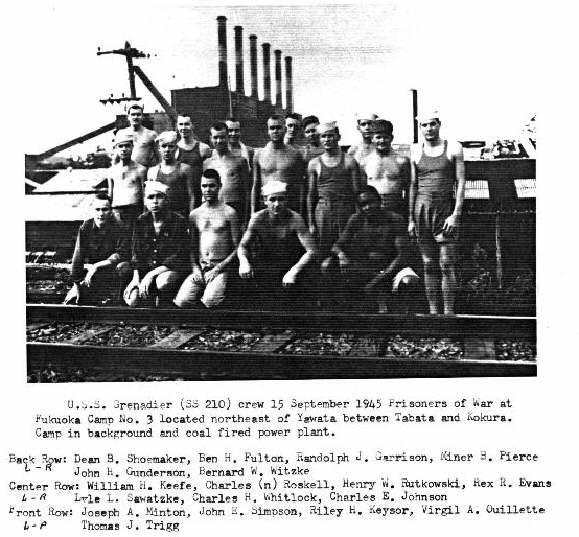 The typewritten notes on the above photograph are reproduced here:

U.S.S. Grenadier (SS 210) crew 15 September 1945 Prisoners of War at Fukuoka Camp No. 3 located northeast of Yawata between Tabata and Kokura. Camp in background and coal fired power plant.

Back Row L-R: Dean B. Shoemaker, Ben H. Fulton, Randolph J. Garrison, ?iner B. Pierce, John H. Gunderson, Bernard W. Witzke

Center Row L-R: William H. Keefe, Charles (n) Roskell, Hentry W. Rutkowski, Rex R. Evans, Lyle L. Sawatzke, Charles H. Whitlock, Charles E. Johnson

Front Row L-R: Joseph A. Minton, John K. Simpson, Riley H. Keysor, Virgil A. Quillette, Thomas J. Trigg
---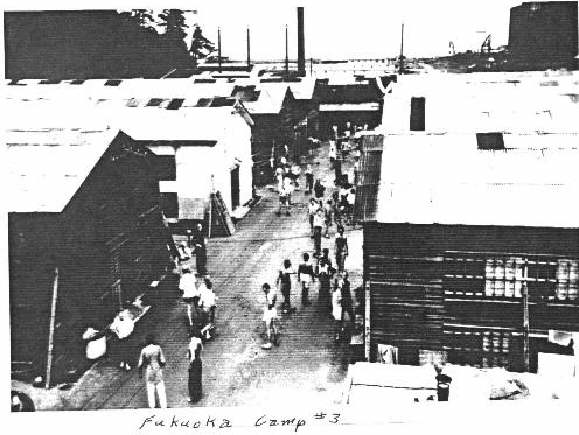 Fukuoka Camp #3
---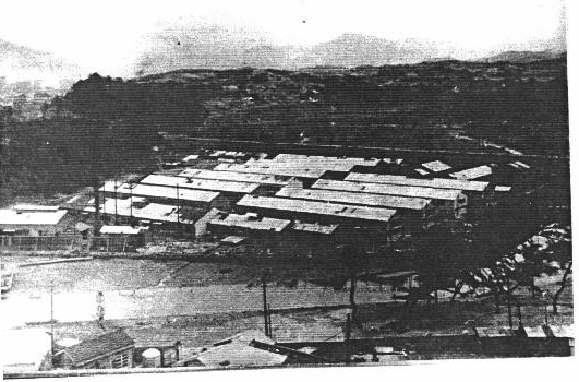 Fukuoka Camp #3
---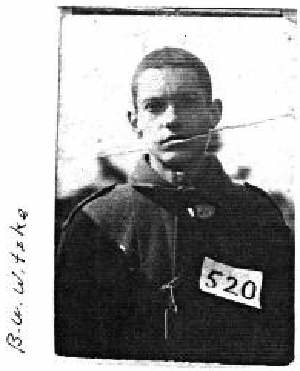 Bernard Witzke - Prisoner 520
---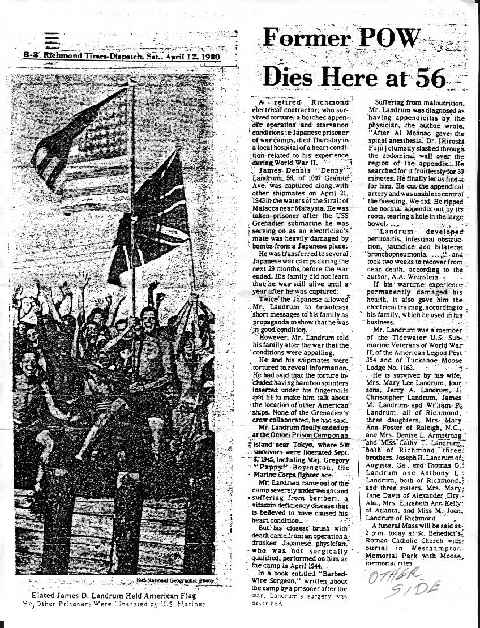 Former POW Slim Landrum dies at 56
(click on image for readable size view)