USS Growler SS-215 Sixth War Patrol


Early in November 1944, USS Growler (SS-215), USS Hake (SS-256) and USS Hardhead (SS-365) were operating together west of the Philippines group as a coordinated search and attack group under the command of Cdr. T.B. Oakley, Jr., Commanding Officer, Growler. The patrol was Growler's eleventh. On 7 November, Growler reported having made temporary repairs to her SJ radar. Which made it usable, but she urgently needed spare parts for it. A future rendezvous was arranged with USS Bream (SS-243) for the purpose of delivering the parts.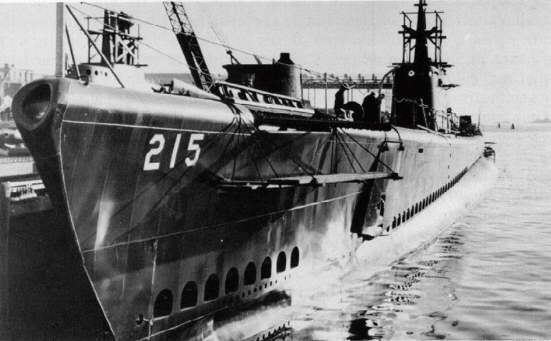 (click photo for larger size)
In the early morning hours of 8 November, Growler, made SJ radar contact on an enemy target group, and reported it to Hardhead. Cdr. Oakley directed Hardhead to track and attack from the convoy's port bow. Shortly thereafter, Hardhead made contact with both the target group and Growler. After about an hour had passed Hake heard two distant explosions of undetermined character, and Hardhead heard an explosion, which sounded like a torpedo. At the same time, the targets zigged away from Growler. Shortly after, Hardhead heard three distant depth charges explode.
A little over an hour after these explosions, Hardhead attacked the target from the port bow, obtained three or four hits, and Hake saw a tanker sink. Hardhead was subjected to a severe counterattack from which it emerged undamaged, while Hake was worked over thoroughly later in the morning. All attempts to contact Growler after this attack were unsuccessful, and she has never seen or heard from since. The rendezvous with Bream for the delivery of SJ spare parts was not accomplished. Since Growler had tracked targets by radar for at least an hour, it appears that her temporary SJ repairs must have been satisfactory.
Although Japanese records mention no antisubmarine attacks at this time and place, it is evident that depth charges were dropped in the vicinity of Growler, but in the absence of more conclusive evidence the cause of her loss must be describe as unknown. The Japanese admit that a tanker was sunk that night, which checks with Hardhead's sinking. Hardhead was heavily depth charged following her own attack and later that morning Hake was expertly worked over presumably by the same escorts. This leads to the belief that if Growler was sunk by depth charging it was at the hands of a skillful antisubmarine group.
The explosion described by Hardhead as "possibly a torpedo" may have been a depth charge or a torpedo explosion. It is unlikely that a torpedo hit was made on the convoy at this time because if the tanker had been hit she probably would either have burst into flame, as she subsequently did when hit by Hardhead, or slowed down if hit in the engine room. She did neither, nor was there any evidence that any of the three escorts were hit. However, since only three subsequent explosions were heard by Hake, and a number of depth charges generally are dropped in an accurate or persistent antisubmarine attack, a number of possibilities exist as to Growler's end.
She could have been sunk as the result of a premature or circular run of her own torpedo, and the three depth charges heard by Hake may have been only a token attack by the escort. Although there was a quarter moon, the night was somewhat misty, and she might have been rammed, thus making it unnecessary for the escort to drop many depth charges. She could have been caught at either radar or periscope depth and the antisubmarine group, evidently a good one, might have verified the results of their attack immediately. An escort could have hit her with a torpedo and only dropped a few depth charges to insure a kill. In any event, sinking by her own torpedoes is only a slight possibility.
It is doubtful whether a report by the escorts of this convoy would help to decide this question. In the cases of USS Tullibee (SS-284) and USS Tang (SS-306), where survivors' statements leave little doubt that destruction was by their own torpedoes, the Japanese ships which picked up survivors claimed to have sunk the submarines themselves.
Growler received eight battle stars for her service in World War II.
Compiled by
Commander Submarine Force, U. S. Pacific Fleet
SUBNET from Dictionary of American Fighting Ships, Navy Department and U.S. NAVAL SUBMARINE FORCE INFORMATION BOOK '95 -- J. Christley
The USS Growler SS215 was one of many Gato Class Submarines that were built by the Electric Boat Company, Groton, CT.

---
The following is from The United States Submarine Veterans Inc. Members on Final Patrol.
I have one consolation that lives with me today.
That God is near to them, in his own special way.
So God in all Your mercy, keep near Thyself the soul,
Of every Submariner, still on his final patrol.
Lord, this departed shipmate with dolphins on his chest
is part of an outfit known as the best.
Make him welcome and take him by the hand.
You'll find without a doubt he was the best in all the land
So, heavenly Father add his name to the roll
of our departed shipmates still on patrol.
Let them know that we who survive
will always keep their memories alive.
---
Ms Lorraine Woods, whose uncle Carl Suba was a member of Growler's crew, gave me a copy of the picture of the crew just prior to their sailing on the last patrol. Her uncle is in the bottom of the picture in the third row center. Straight down from the flag to the third row and a little to the left, you will see three sailors with their heads together. Carl Suba is in the middle.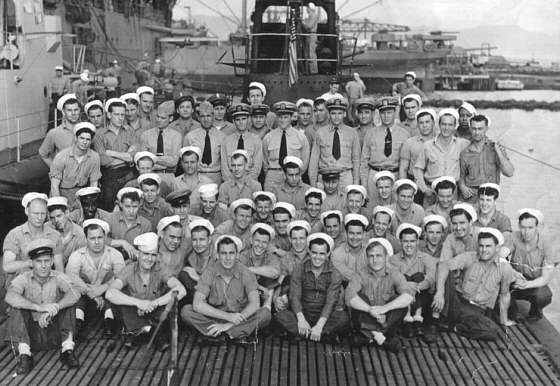 (click photo for larger size)
USS GROWLER (SS-215) crew members lost November 8, 1944:
Abel, J. H. TM1, ARCHER, H. W. EM2, Baker, H. C. S1, Beatty, T. M. GM3, Bergfeld,W. V., EM1, Blackston, H. H. S2, Booker,W.D. TM2, Boone, C. R. CMOMM, Bridge, R. S. RM2, Carr, W. K. ENS., Chamblin, R. L. Jr. QM2, Clark, L. C. MOMM3, Cleveland, B. ST3, Dallman, G. B. F1, Darby,J. A. MOMM1, Daughtrey, G. P. FCS2, Dawson, F. E. EM1, Durand, A. L. Jr. F1, Erikson, R. D. F1, Ferrario, A. CMOMM, Flippens, W. STM2, Fredman, C. E. Jr. MOMM1, Fyer, A. J. EM2, George, A. H. F1, Gregory, W. M. LTjg., Hakanson, R. E. TM2, Harris, R. TM3, Heald, H. F. S1, Hedrick,W. E. SC2, Hickey, W. C. Jr. MOMM2, Hope, R. E. TM2, Jacobs, A. M. EM3, Jewett, G. W. LTjg., Johnson, L. S. LTjg., Kaczmarek, H. A. Y3, Kuba, D. J. MOMM1, Laderman, R. S. RT2, Lane, R. E. Jr. RM1, Leveille, M. P. MM1, Lorio, E. P.S1, Lynch, G. S1, Maddox, J. H. TM1, Maness, L. B. CEM, Manning, W. S. MOMM2, Mason, R. K. Jr. LT., McLaughlin, J. J. QM3, McMullen, L. TM2, Melancon, C. M. MOMM2, Metzler, A. FCS2, Miller, D. C. GM3, Minkle, A. J. Jr. F1, Morrison, W. EM2, Natov, B. RT2, Naylor, N. W. LT., Nixon,C. F. F1, Oakley, T. B. Jr. CDR., Orth, L. R. SC1, Owen, A. D. RM2, Padilla, J. S2, Parus, H. R. Jr. S1, Picard, R. J. MOMM3, Post, E. W. TM3, Ratnecht, C. H. MOMM3, Read, E. P. CMOMM, Rhodes, H. E. S1, Rothenberger, E. W. RM3, Schulz, K. G. Y2, Sebestyen, P. Jr. TM3, Simmons, D. G. ST2, Smith, W. D. LTjg., Smith, W. L. CTMA, Stevanovich, N. L. Jr. QM3, Stoiner, S. J. S1, Stubblefield, J. W. CMOMM, Suba, C. F. S1, Tanner, J. A. MOMM2, Thigpen, D. T. F1, Thomas, F. P. LT., Thompson, H. E. PHM1, Tullier,R. B. F1, Vail, P. F. EM2, Vecere, R. EM3, Welch, R. D. Jr. EM2, Weterings, R. L. S1, Workman, C. A. MOMM3.
---
I believe it would be appropriate at this point to dedicate the Submariner's Navy Hymn to all past, present and future submariners. This hymn was received from Senior Chief Darrell D. Ames [ AmesDD@csp.navy.mil ]
Eternal Father, Strong to save,
Whose arm hath bound the restless wave,
Who bid'st the mighty Ocean deep
Its own appointed limits keep;
O hear us when we cry
for those in peril on the sea.

O Christ! Whose voice the waters heard
And hushed their raging at Thy word,
Who walked'st on the foaming deep,
And calm amidst its rage didst sleep;
Oh hear us when we cry to Thee
For those in peril on the sea!

Most Holy spirit! Who didst brood
Upon the chaos dark and rude,
And bid its angry tumult cease,
And give, for wild confusion, peace;
Oh hear us when we cry to thee
For those in peril on the sea!

O Trinity of love and power!
Our brethren shield in danger's hour;
From rock and tempest, fire and foe,
Protect them wheresoe'er they go;
Thus evermore shall rise to Thee,
Glad hymns of praise from land and sea.

Lord God, our power evermore,
Whose arm doth reach the ocean floor,
Dive with our men beneath the sea,
Traverse the depths protectively.
O hear us when we pray, and keep
Them safe from peril in the deep.
---
It should be noted that I tried to add background music to this article. However, I ran into many difficulties. The first was changing the music from MP3-2-WAV. After many hours I was successful in accomplishing this stage. Then I found that the WAV background music must be checked and approved by some authority or other before it can be used. Finally I was told that if approval is received the music could be used for " ONLY 15 SECONDS." The background music that I selected was appropriate for this article.
US Naval Academy Glee Club-Eternal Father [Navy Hymn] Military-US Naval Hymn-Eternal Father-Fred Waring
EMAIL ADDRESS
Senior Chief Darrell D. Ames AmesDD@CSP.NAVY.MIL
Lorraine Woods LorWoods98@aol.com
Eugene A. Mazza ROSUB@AOL.COM
LINKS
http://www.csp.navy.mil/ww2boats/growler.htm
http://www.subnet.com/MEMORIAL/mf215.htm
http://www.subnet.com/fleet/ss215.htm
http://www.submarinesailor.com/boats/ss215growler/
http://www.ussvi.org/final.htm
http://www.ussubvetsofworldwarii.org
http://www.submarinesailor.com/biography/HowardGilmore/HowardGilmore.htm
Gene Mazza's Home Page: http://hometown.aol.com/rosub/eternalpatrol.html
[Posted April 2007]