Changing Thoughts of a Veteran Who Has Been in Combat
Before starting to write about the subject title I feel it is first necessary to describe my life style prior to the start of World War 2. I was raised in a semi rural area in a small town with a population of less than three thousand people. Across the river from this town was another with a population of approximately seven thousand people. The nearest other small towns were 8 to 10 miles away. Life was simple and friends were many. Outside of school there were the hobbies of hunting, rifle target shooting, fishing, camping and hiking and much time was spent on the river in a rowboat and swimming. Wintertime was for ice-skating, snow sleding and cross-country skiing. During the school months there were the regular school activities along with sports, with basketball being my favorite. A "big time" on Saturday night would be to take in a movie at the local movie theater that was followed with a visit to the fountain of a local drug store or dairy store for a glass of "coca-cola" or perhaps a milk shake. Sometimes we would live "high on the hog" and buy a banana split. That wasn't very often. Sunday mornings would be the time of worship at our respective churches. We were carefree, happy and remained free of trouble. Perhaps temptations were not so great and prevalent in those years. As I said – life was simple and we were in the age of innocence.
However, the event of December 7, 1941 soon changed all this simplicity. With this simple up bringing of innocence we were now thrust into a new life style of the unknown. Drastic changes would be in the making.
What I am now about to write applies to my thinking and myself. I cannot and will not attempt to explain the thoughts and feelings of others.
Approximately one year after entering the Navy I was trained for combat and shipped to the Southwest Pacific, with much of my innocent up bringing still in tact. My first reaction to combat, when the enemy was being destroyed, was that of tears. Why the tears? My ingrained innocence told me that human beings were being killed. But – things change.
After the enemy retaliates with air planes dropping bombs and making machine gun strafing runs, enemy ships firing their guns in your direction and dropping depth charge after depth charge and enemy coastal artillery guns lobbing shells in your direction – well – again things and thoughts change due to self survival. Self-survival takes over and the once overwhelming innocence starts to fade. With the waning of innocence, and the strong thoughts of self survival, hatred now takes over and mounts very highly and the urge to destroy the enemy is foremost in ones mind. This feeling is magnified many times when learning that your best friend was shot and killed by an enemy sniper and that another very good friend was lost aboard a submarine sunk by the enemy. Now destroying the enemy is the only objective in ones mind. With the conclusion of the war, it is now again time for change in thinking. So once again thoughts change.
The brain is a wonderful mechanism. After the cessation of hostilities the brain allowed all these horrific experiences to be stored in the back part of the brain (perhaps not anatomically correct) and retained there for recall at some later time, if wanted.
In the meantime new thoughts and goals take over. The thoughts of getting an education so that one would be more capable of better employment possibilities and the starting of a family and a new life ahead with love for all people. Yes, a simple life of innocence.
I now say that life has come "full circle" – starting with simplicity and innocence, developing into anger and hatred and returning once again to the simplicity of innocence.
These are the changing thoughts of a submarine veteran who has been in combat.
---
Biography of Robert E. Straub
At the age of seventeen I enlisted into the Regular U. S. Navy and was sent to the Sampson Naval Training Station in New York State for my basic training. (Boot Camp). At the completion of basic training I remained at Sampson and attended Radioman School. I graduated ranked second in my class and was granted a Petty Officer rating of Radioman 3rd Class.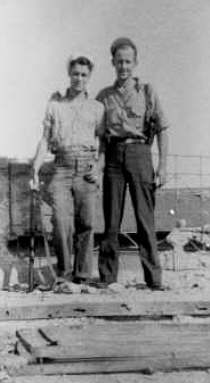 (L to R) Rob't Straub, COB Emerich Koroshetz CBM (in Manila)

I volunteered for Submarine Duty while in Radio School and upon completion of that school I was transferred to New London and entered the Basic Submarine School. This training was followed by courses in Advanced Radio and Sonar. Upon satisfactory completion of these courses I was transferred overseas to the Southwest Pacific. My first duty station was aboard the submarine tender USS Fulton anchored in Milne Bay, New Guinea and I worked in the Communication group for the Commander Task Force 72. After a few weeks this command shifted to the submarine tender USS Eurayle and shortly after that the command transferred to the U. S. Submarine Base, Brisbane, Australia.

It was while at Brisbane that I was assigned aboard the USS Guavina SS362. She had completed War Patrols #1 and #2 and both patrols were successful. I was aboard Guavina for War Patrols #3, #4, #5 and #6 which were all successful patrols. After Patrol #3 I received my Submarine Combat Pin. I was warded a gold star for the pin for each patrol of the remaining patrols. During Patrol #4 I completed my requirements for submarine qualification and was authorized to wear the submarine dolphins. It was also at this time that I was promoted in rating to Radioman 2nd Class. After the sixth patrol, Guavina was ordered to return to the States for a major overhaul in May 1945.

When the overhaul was completed, Guavina departed from the San Francisco area in early August and arrived at Pearl Harbor about the same time that the announcement came that the hostilities with Japan had ceased. About mid September 1945 we departed for United States carrying many POWs, most of them submarine POWs who were being held in Japan. Orders sent us to the Mare Island Naval Shipyard where the Guavina was finally de-commissioned. I remained with her until my honorable discharge in August 1946. At this time I enlisted in the Naval Reserve and returned to my home town in PA.

Shortly afterward I enrolled in a television engineering school in Chicago and while there I attended Naval Reserve meetings at Navy Pier. After completing the school I returned to PA and was employed by Westinghouse Electric Company for over 23 years. Positions held with Westinghouse were electronic technician, quality control patrol inspector, test supervisor, production engineer and assistant manager on a government project. During this period of time I attended Naval Reserve meetings at Williamsport, PA and went to New London for two weeks training per year aboard the boats.

Early 1951 I was recalled to active duty and was assigned aboard the submarine USS Amberjack SS522 operating out of Key West, FL. Shortly after being assigned to the submarine I was awarded advancement in rating to Radioman 1st Class as the result of a fleet wide competitive examination. Late in September 1952 I was released from active duty and returned to civilian life and my employ with Westinghouse. In the early 1970's Westinghouse discontinued its manufacturing of home entertainment equipment such as television, radios, and stereos and it was at this point I went to work for Johnson & Johnson and was in their employ as a Quality Control Supervisor until I retired in 1988.

Hobbies: During my early years I was active in most sports with basketball being my favorite. Hunting, fishing, target shooting, camping, hiking, swimming, golf and cameras were all part of my earlier life. Presently the hobbies are limited to sub vet activities, amateur radio (Morse Code only), learning the computer and kite flying.

Family: Son Steve – 55 years of age – a navy carrier sailor during the Viet Nam era. He and his wife Chris have a son age 33 and a daughter age 28. All four of them live in the state of Maine. My daughter Brenda age 50 lives in the state of Virginia with her horses, dog, cat and any other stray that comes along.

Respectfully submitted by Robert Straub RM1SS
kc2aio@juno.com
USS Guavina SS362
USS Amberjack SS522

[Published 4/2004 - Copyright Robert Straub 2004 - Reproduced with permission of the author]