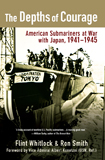 The Depths of Courage: American Submariners at War with Japan, 1941-1945
A new book cowritten by our very own Ron "Warshot" Smith!
In World War II, a chosen few fought a silent war beneath the waves...These are their stories.
In the dark days after Pearl Harbor, the small, ill-equipped arm of the Navy known as Submarine Force would stand between the shattered U.S. Pacific Fleet and the might of the Japanese Navy. Unfortunately, the spirit and courage of the Submarine Force is being forgotten as the veterans of that force pass into history.
To preserve their heroic tales of war beneath the sea, critically acclaimed author and military historian Flint Whitlock, in collaboration with decorated WWII submarine veteran Ron Smith, set out on a journey of more than two years to interview submariners and to record their stories before the memories of their endeavors are lost forever. Here, those stories are chronicled in honor of those who gave their all for their country.
Available via: Penguin Books or Amazon.com
For details on getting a signed copy, contact the author.